This is the flagship event of Dressage4Kids, Inc. conducted in July or August. Instituted in 1999, the festival offers individual and team competition for riders from ages 4 through 25. Division championships feature a three-phased competition: a written test, an individual dressage test, and an equitation ride. Divisions offered are Introductory through Fourth, FEI Pony, Junior and Young Rider and Para Equestrian. Riders may also assemble teams and vie for the Kross Creek Farm Team Championships in honor of Margarita Serrell. Classes for Leadline (riders aged 4 to 8), Prix Caprilli (dressage ride incorporating jumps), Dressage Trail and Musical Freestyle are offered, as are other competitive and fun activities.
There are also now similar programs held elsewhere.
News & Events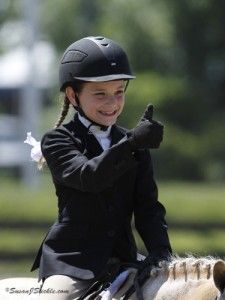 Contributions to Dressage4Kids, Inc. from our sponsors fund our educational programs, training and scholarship awards, and therefore strengthen the foundation of dressage in America.
Take a look.

Welcome and thank you for considering donating your time to help us make this great event a success.
Read more.